1984 born in Berlin. Studies at the Berlin University of Arts (UdK). He focusses on drawings, photography, cataloguing and archiving, independent publishing, artistic reduction of printed pictures, semiotics in urban space and inventory discrepancies in the retail sector. Lives and works in Berlin.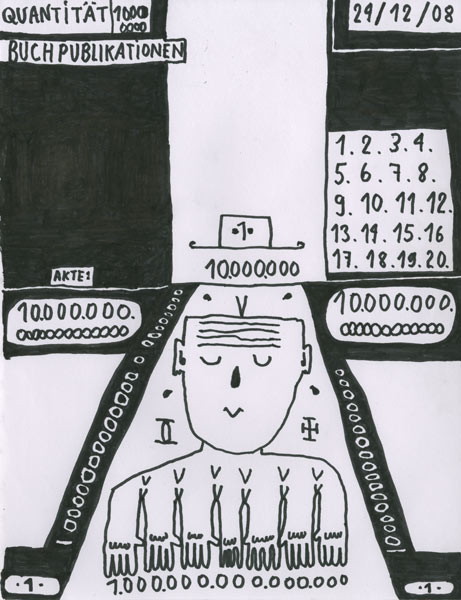 "Quantität 10.000.000", Kevin Kemter, 2008
Felt pen on paper, 27,5 x 21,5 cm

Publications
Immortal-Dead Soon II, Kevin Kemter, drawings and etchings 2006-2009 (catalogue of drawings), AKV, Berlin 2009.
Book of Idols (Albumm über die besten Sachen und Personen der Welt), Kevin Kemter, AKV, Berlin 2008.
Immortal-Dead Soon, works on paper 2003-2005 (catalogue of drawings), Kevin Kemter, AKV, Berlin 2006.
And 3 other publications under different pseudonyms at various publishers.
↑