AKV Berlin + ZAST REAL ESTATE
Publisher's Anniversary and Book Presentations
17.04. - 19.04.2009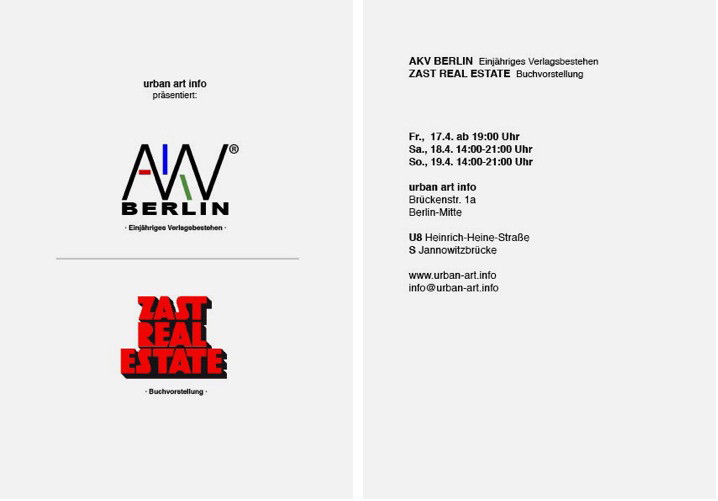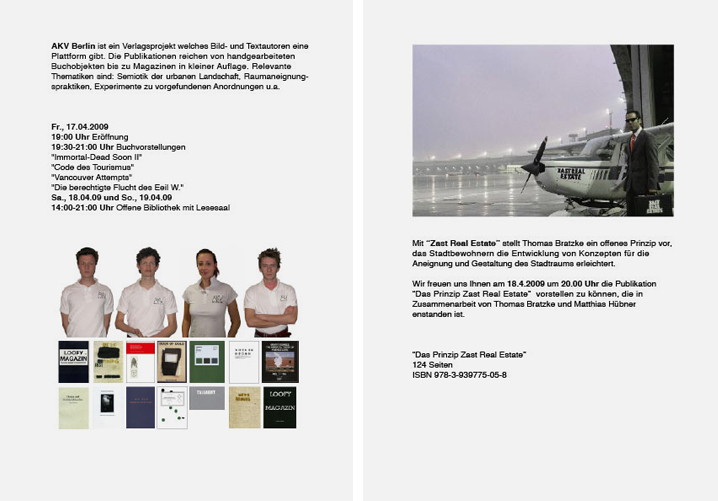 AKV Berlin is an independent publisher for authors and artists. So far, its publications range from handicraft-made books to magazines with low circulation. The current thematic focuses involve: Semiotics of the city, appropriation of space and its practices, experiments on societal order, ficticious journalism and ficticious documentary.
The publisher was set up to guarantee autonomous working conditions for artists. The necessity to sell and restricted possibilities of design in the media book should not limit the artists in any way whatsoever. The initiators Vincent Grunwald, Kevin Kempter and Max Stocklosa also contribute as authors.
To celebrate one year of its existence AKV hosts a program with book presentations and a champagne reception in the premises of urban art info.
Material that so far was only accessible online on akvberlin.com will be presented to a broader audience and all present AKV-publications will be available as well.
Zast Real Estate as presented by artist Thomas Bratzke (*1977, Berlin), describes a possible -however precarious- way for using and designing the cityscape, which could facilitate the development of related concepts by city dwellers. The artist takes the identity of a real-estate agent. In a given city Zast Real Estate searches for suitable places for a very special offer. The focus is on those kind of objects, which are in such a condition as to carry an above-average potential for being re-designed. Whether or not the property is in fact for rent or for sale and whether or not the proprietors consent on being registered by Zast Real Estate is not paid attention to. What follows is a thorough archiving of the objects.
So far ZRE has presented up to 40 different places in 5 cities respectively ((Berlin, Hamburg, Hannover, Reutlingen, Luleå/Schweden). In the local ZRE-offices customers are offered consulting, inspection and sketches to playfully develop new ideas for changing and using their city. The decision as to how and if the ideas are carried out will be left to the customer. Zast Real Estate also collects those sketches which were not drawn with any further intention whatsoever. The ever-growing collection provides an insight in a wide array of artistic impulses.
"Das Prinzip Zast Real Estate" by Thomas Bratzke was realized with financial aid by the HAP-Grieshaber-Stipendium and in cooperation with Matthias Hübner. Zast Real Estate catalogues from different cities, related sketches and a video will be displayed in addition to the presentation of the book.
The presented publications can be ordered at AKV Berlin and via www.thomasbratzke.com.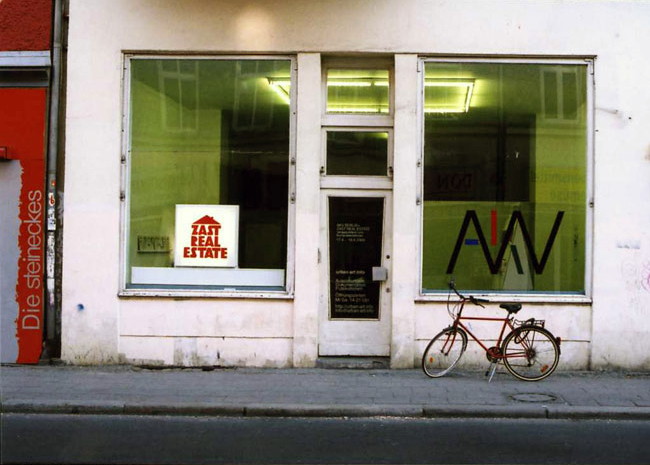 Photo by Jürgen Große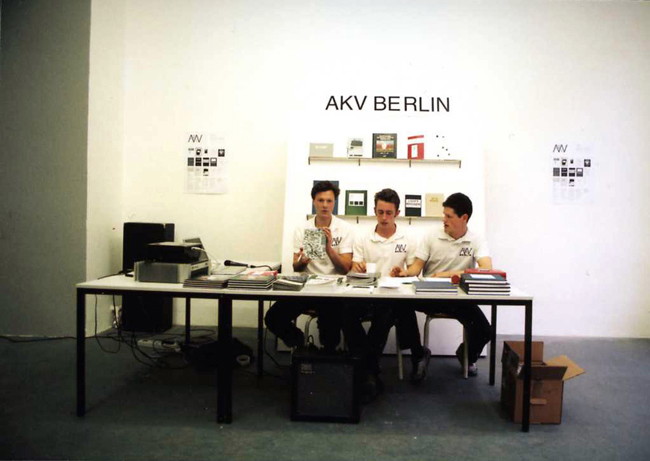 Photo by Jürgen Große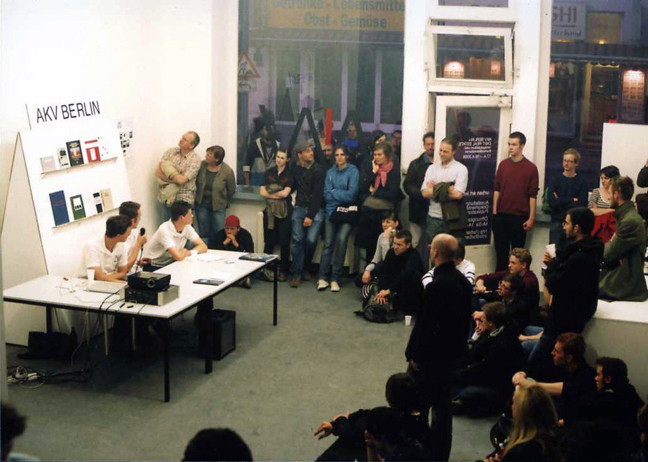 Photo by Jürgen Große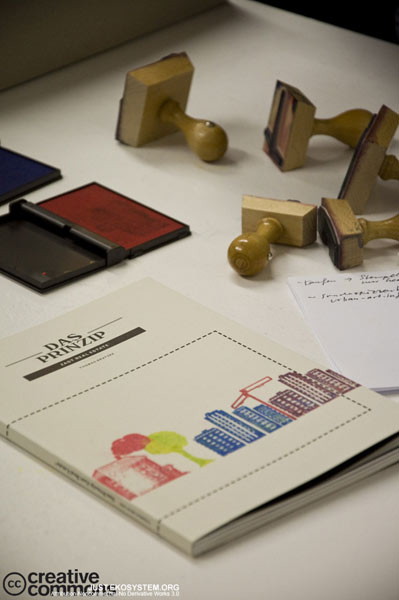 Photo by Just /Just.ekosystem.org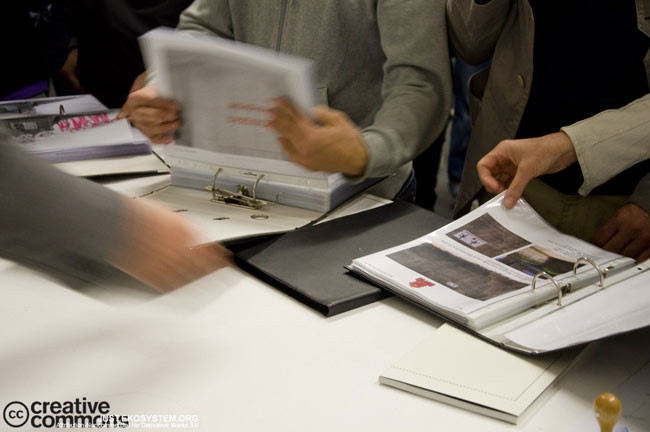 Photo by Just /Just.ekosystem.org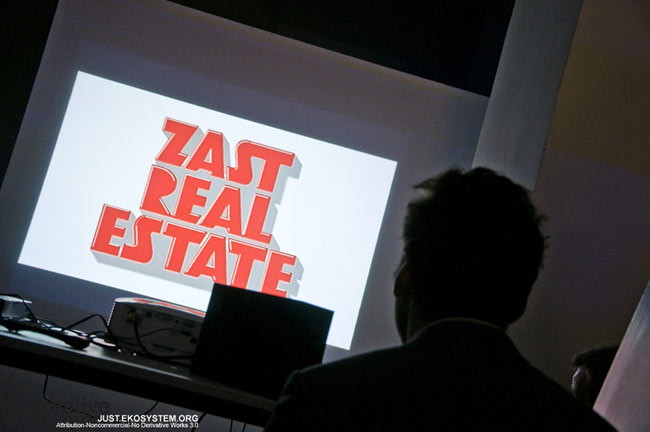 Photo by Just /Just.ekosystem.org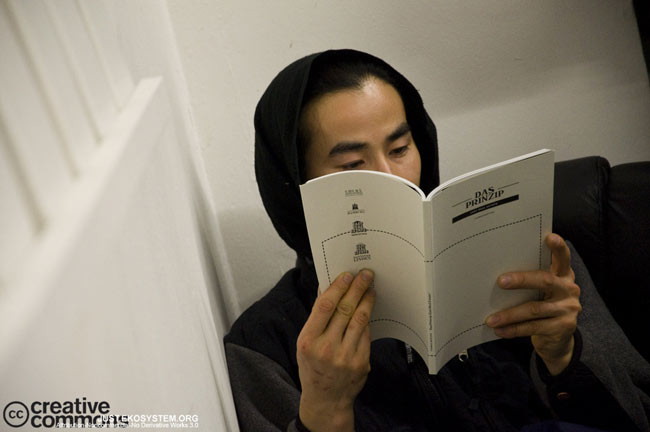 Photo by Just /Just.ekosystem.org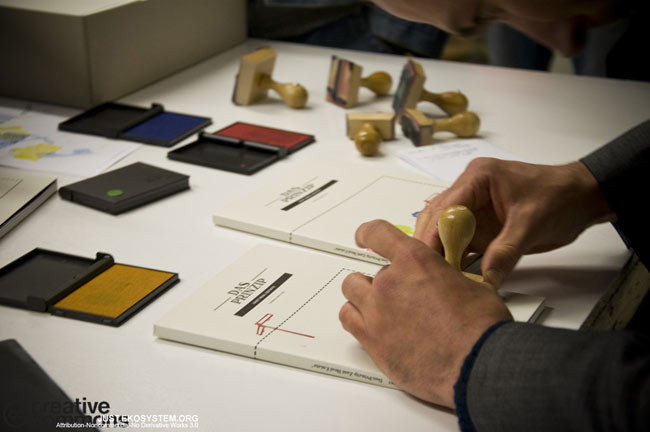 Photo by Just /Just.ekosystem.org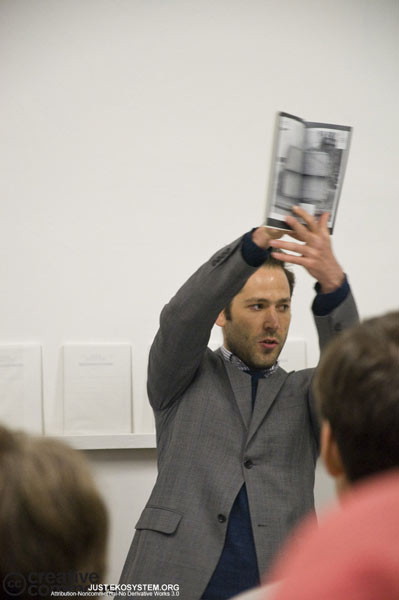 Photo by Just /Just.ekosystem.org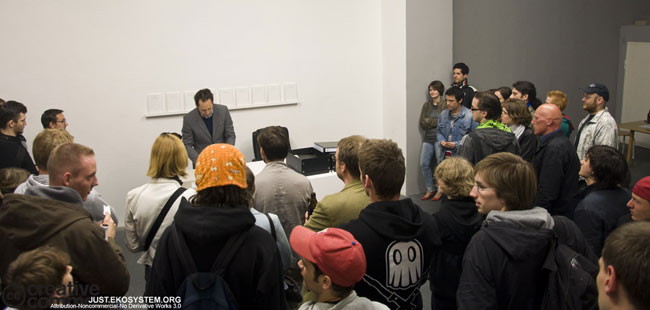 Photo by Just /Just.ekosystem.org

↑