Born in Nashville, TN in 1983.
Studied at Pratt Institute, Brooklyn.
Exchange at VCA, Melbourne, Australia.
Organized and participated in a residence in Winterthur, Schweiz.
Received a BFA in Photography in 2005.
Ben Wolf studied Photography but is now entirely devoted to sculpture and installation. He likes to create his works for a specific space to give life to material and shape, color and spaces and uses various technics from carpentry, welding, casting, to general assembly of chaos. Often times dragging in oversized hordes from the depths of abandonment; adding, stacking, layering. His choice of materials like rotten boards, rusted stair wells, peeling paint reflects his interest in decadence of abandonment. The outcomes are usually abstract forms that deflect reference and invite the visual journey of interpretation.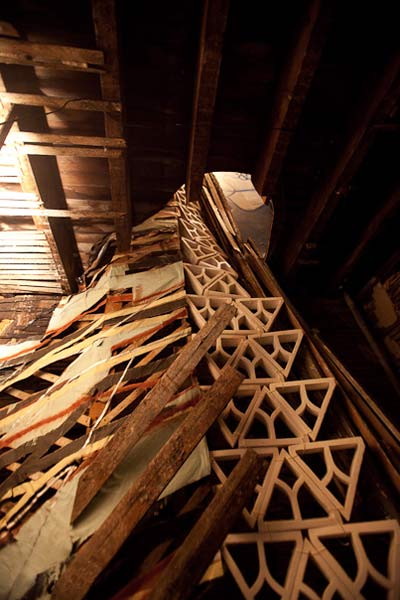 "OverTake", Ben Wolf, Installation at OverTake - Bushwick, Brooklyn, 2009
Wood, plaster, paper and paint
Photo by Tod Seelie

Exhibitions
2009
Distance Don't Matter, collaborative installation, SPACE gallery, Portland.
SQUINCHES AND PENDENTIVES, with SWOON, urban art info, Berlin.
Nuart Festival, group exhibition, Stavanger.
The Wassaic Project Summer Festival, group exhibition, The Wassaic Project's, New York.
Artist Run Chicago, group exhibition, Hyde Park Art Center, Chicago.
Sideways, installation, Normal Projects, Chicago.
Overtake 88, Renegade Installation Project, Brooklyn.
Pallete, South Philly Biennale, Philadelphia.
2008
wreckHorde, solo exhibition, Secret Project Robot.
What It Is, public installation, Brooklyn, BAC Regrant.
Transformasium, group exhibition, Secret Project Robot.
2007
Group exhibition, Crown House, Brooklyn.
2006
Happy Endings, Installation, New York City.
Works on View, Gimme Coffee, Brooklyn.
2005
Senior Thesis Show, Pratt Institute, Brooklyn.
2004
Die Amerikanische Schweiz, group exhibition, Galerie Juri, Kulturzentrum Winterthur.
Grants
BAC Regrant Public Art Piece.
Artist Residencies
2008
Lower Manhattan Cultural Council
↑