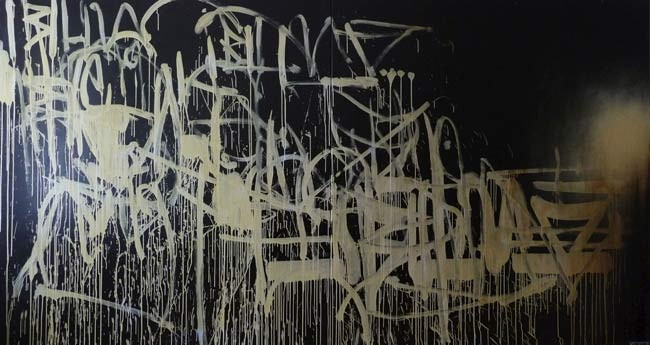 "Als wir noch Kinder waren.", TRYONE, 2008 Oil, acrylic on canvas, 185 x 300 cm

Exhibitions
2010
HIMMELFAHRT NR. 1-53, solo exhibition, urban art info, Berlin.
2009
ARTotale - Leuphana Urban Art Project, Lüneburg.
WIR SIND NICHT DIE AFFEN IN DEINER HORDE!, with DTAGNO, urban art info, Berlin.
2008
Secrets 2, solo exhibition, Russische Kaserne, Bernau.
Secrets, solo exhibition, Bärenquell Brauerei, Berlin.
2006
Rhythm of the Line Filmfestival, installation, Eiszeit Kino Berlin.
2005
Backjumps - The live issue 2, participation in the project City of Names, Künstlerhaus Bethanien, Berlin.
Paranoia Express Vol.1, group exhibition, Galerie Andreas Engler, Berlin.
2004
Participation in the project City of Names, Gothenborg.
4 Your Brain 2 Suck! / Writing, group exhibition , Galerie Dritte Etage, Berlin.
Fragmente - Elemente, solo exhibition, Galerie Erdengang, Berlin.
2003
Typo Berlin 2003, presentation and reading, Haus der Kulturen der Welt, Berlin.
Haushalten – ein Künstlerprojekt, Jazzstylecorner - group exhibition , Galerie Pankow, Berlin.
2002
Union, group exhibition, Rathaus Pankow, Berlin.
Writing Messe, installation, Prague.
Publications
Translatae Stillae Pluviae, in: Das Gedächtnis der Stadt schreiben / Writing The Memory Of The City, Markus Mai, Thomas Wiczak (eds.), Dokument Förlag, Årsta 2007.
Black Book, Original Siebdruckarbeiten Berliner Künstler, Siebdruckwerkstatt "Fleischerei", Berlin 2005.
Writing - Urban Calligraphy and Beyond, Markus Mai, Die Gestalten Verlag, Berlin 2004.
BackJumps - SketchBook Sketches all over the world, Adrian Nabi, Berlin 1997.
Berlin Train Special, Backjumps, Berlin 1995.
↑