born in 1976 .
Lives and works in Berlin.
Studied at the Film & Television Academy (HFF) "Konrad Wolf" in Potsdam-Babelsberg.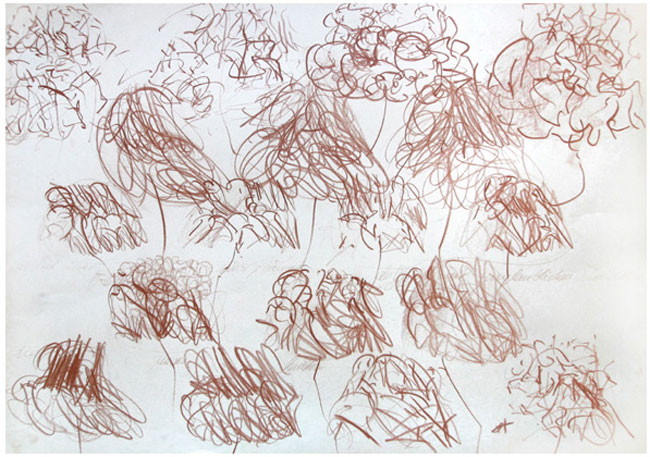 "Fleur du mal", DTAGNO, 2008
Chalk on paper, 38 x 59 cm

Exhibitions
2009
BLK River Festival, Streetart Film Festival, Vienna.
ARTotale - Leuphana Urban Art Project, Lueneburg.
Né dans la Rue – Born in the Streets, group exhibition, Fondation Cartier pour lárt contemporain, Paris.
WIR SIND NICHT DIE AFFEN IN DEINER HORDE!, with TRYONE, urban art info, Berlin.
URBAN ART - Werke aus der Sammlung Reinking, group exhibition, Weserburg - Museum für Modern Kunst, Bremen.
Lynchmob, group exhibition, HBC, curated by Emilie Trice & Christopher David, Berlin.
2008
High End Vandalism Breaking Into Pieces, solo exhibition, Circleculture Gallery, Berlin.
The Alternative Philosophy, group exhibition, Leonard Street Gallery, London.
2007
Backjumps - The live issue 3, group exhibition, Berlin.
2005
Backjumps - Berlin/Tokio, group exhibition, Wonder Site Gallery, Tokyo, Japan.
2004
Typo Berlin 2004, lecture in cooperation with Jazzstylecorner, Haus der Kulturen der Welt, Berlin.
Publications
The Art Of Rebellion III., Publikat Verlag 2010.
Urban Art, Weserburg | Museum für moderne Kunst, Bremen, Hatje Cantz Verlag 2009.
Gudberg, Independent Magazine for Art, Graphic, Design & Photography, 2009. Metagraffiti - A Collection of Writers Films, Macarena Dusant, Dokument Förlag, Årsta 2009. Backjumps - The live issue 3, exhibition catalog, Willem Stratmann (ed.), From here to fame, Berlin 2008.
Backjumps, 1994, Berlin 2002.
Das Gedächtnis der Stadt schreiben / Writing The Memory Of The City, Markus Mai; Thomas Wiczak (eds.),Co-author, Dokument Förlag, Årsta 2007.
Writing - Urban Calligraphy and Beyond, Markus Mai, cover illustration & Co-author, Die Gestalten Verlag, Berlin 2004.
Berlin A-Z, Institute for Information Design Japan, Tokyo 2006.
↑