1983 in Nashville geboren.
Studium am Pratt Institute, Brooklyn.
Auslandssemester am VCA, Melbourne, Australien.
Artist in Residence-Aufenthalt in Winterthur, Schweiz.
2005 Abschluss als BFA in Photographie.
Ben Wolf hat Photographie studiert, beschäftigt sich mittlerweile jedoch hauptsächlich mit Skulptur und Installation. Seine Arbeiten entwirft er speziell für einen bestimmten Ort, um so Form, Material, Farbe und Raum Leben einzuhauchen. Für eine seiner Außeninstallationen, für die er ausschließlich in der unmittelbaren Umgebung gefundenes Material verwendet, erhielt er ein Stipendium des Brooklyn Arts Council. Seine Techniken reichen von Holzarbeiten über Schweiß- und Gussverfahren bis hin zu völlig chaotischen Montagen. Häufig entstehen übergroße Berge aus zusammengesetztem, gestapeltem und geschichteten Schutt. Seine Arbeit mit modrigen Brettern, rostige Treppen und abblätternde Farbe spiegelt seine Interessen für Verfallenes und Verfallendes wieder. Die Ergebnisse sind zumeist abstrakte Formen, die auf eine visuelle Interpretationsreise einladen.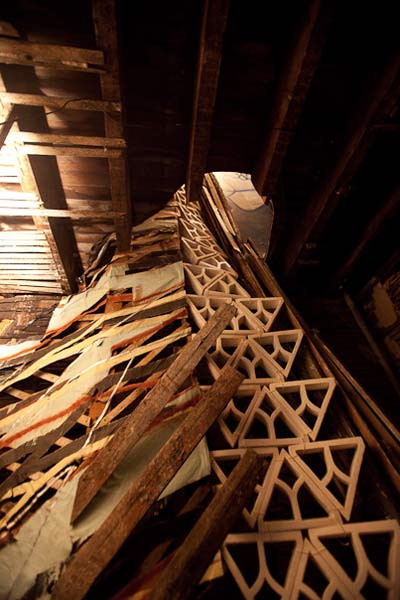 "OverTake", Ben Wolf, Installation, OverTake - Bushwick, Brooklyn, 2009
Holz, Gips, Papier, Farbe
Foto: Tod Seelie

Ausstellungen
2009
Distance Don't Matter, gemeinsame Installation, SPACE gallery, Portland, ME.
SQUINCHES AND PENDENTIVES, mit SWOON, urban art info, Berlin.
Nuart Festival, Gruppenausstellung, Stavanger, Norwegen. The Wassaic Project Summer Festival, Gruppenausstellung, The Wassaic Project's, New York.
Artist Run Chicago, Gruppenausstellung, Hyde Park Art Center.
Sideways, Installation, Normal Projects, Chicago.
Overtake 88, Renegade Installation Project, Brooklyn.
Pallete, South Philly Biennale, Philadelphia.2008
2008
wreckHorde, Einzelausstellung, Secret Project Robot.
What It Is, öffentliche Installation, Brooklyn, BAC Regrant.
Transformasium, Gruppenausstellung, Secret Project Robot.
2007
Gruppenausstellung, Crown House, Brooklyn.
2006
Happy Endings, Installation, New York City.
Works on View, Gimme Coffee, Brooklyn.
2005
Senior Thesis Show, Pratt Institute, Brooklyn.
2004
Die Amerikanische Schweiz, Gruppenausstellung, Galerie Juri, Kulturzentrum Winterthur.
Stipendien
BAC Regrant Public Art Piece.
Artist Residencies
2008
Lower Manhattan Cultural Council
↑